While discussing learning theories in our class this week, I felt I really had to dust off the theory side of my teacher brain. Even after our discussions, I could not pinpoint ways to describe how I put theory into practice daily. I found the info graphic below extremely helpful! Gif via Giphy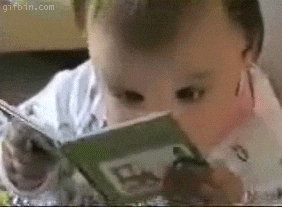 I would like to think that I apply all of the theories at some level in my classroom, everyday.  Here are some examples I can think of from this week.
Behaviorism: In my ELA 9 class we had a lesson on document structure, tips and saving in Microsoft Word. Students then used the sample document to create their assignment. It was not higher level and did not require independent thought, but I believe we covered some general useful skills that will help them presently and in the future.
Cognitvism: Again in ELA, students created letters to survivors following our Survivor & Conquering unit. This allowed them to take the knowledge we covered throughout the unit and create their own independent work. Some students wrote letters to famous people, or fictional characters while others wrote to family members.
Constructivism: As far as constructivism students in Entrepreneurship 30 were required to create mini trial businesses and sell a product over a three day period. This required students to take what they have learned in class, create their own business and sell their product. As simple as selling candy and cookies at lunch students really learn a lot about how a business works.
Image via eLearning Infographics
Along with learning theories Alec displayed the following 9 Events of Instruction from Gagne, 1965. Although, it was created in 1965 and the classroom, world and learner has changed I use many of these in my daily practice.  Some traditional teaching methods stand the test of time, as Alec said, "these are solid".
My questions:
Is it unrealistic for me to believe that I actually use all learning theories in my classroom?
Are some subject areas geared more towards some learning objectives over others?
Do you know what SWBAT stands for? That may take many of you back to your undergrad lesson planning…
Thanks for reading!